Professional CCTV drain surveys in Cambridge by Mitchel & Mayle Ltd
Get to the bottom of the problem

Identify Your Blockage Problems With a Drain Surveying Service in Cambridge
Problems with your drains can cause real issues, especially when you can't identify the problem. Water jetting is one solution that is usually effective at clearing pipes, however in more complex situations you may need to get to the root of the problem. Luckily, our professional team are experienced in CCTV drain surveys in Cambridge, using the latest technology to quickly identify the issue by analysing every inch of the drainage system. From lodged items to broken pipes, ensure your domestic and commercial pipes are in tip top condition. With affordable prices and a dedicated team, don't let your drainage problems get out of control get in touch and book your appointment today.
What Can a CCTV Drain Survey In Cambridge Find?
Using advanced software, drainage CCTV reveals real-time images of the pipes so we can see exactly what's going on. From underground blockages, lodged household items or tree roots, you'll be surprised what surveying can reveal. Whatever may be the cause of the blockages you are experiencing, you can rest assured that our CCTV team will uncover it. We pride ourselves on being the best drain surveyor in Cambridge and intend to maintain our position at the top, by continuing to deliver services of the very highest quality to all of our customers in this region of the UK.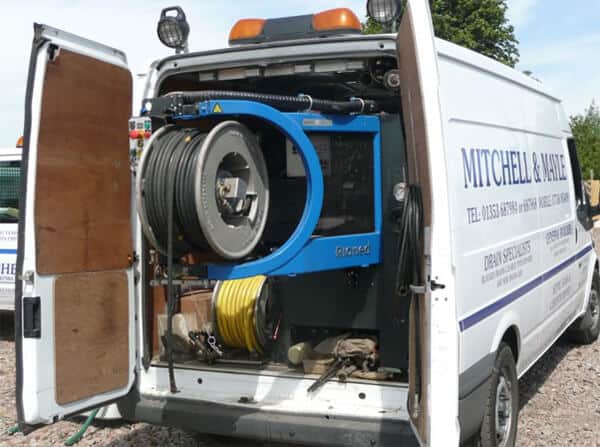 The Only Drain Survey Company in Cambridge You Need
Thanks to our many years of experience and our team of talented technicians, we are able to provide a complete range of services to local residents and businesses, covering all of their drain survey requirements. Whatever type of survey you may need, pick up the phone and speak to us about it today. We guarantee to provide you with the service you require at a competitive price and to solve all your drainage problems both now and in the future. Mitchell and Mayle really is the only drain survey company in Cambridge you will ever need.
If blocked drains are becoming an issue in your home or place of business, call our drainage specialists in Cambridge on